After reaching Service Record level five, you'll be able to customize your Commanders with skills!
Earning XP in battle doesn't just allow you to unlock new modules to upgrade your warships; it also levels up your Commanders and allows them to learn new skills! As commanders level up, they'll receive a point which can then be spent to master skills. Basic skills require only one point to master, while more advanced skills require up to four points.
The variety of skills available allows your Commander to specialize in skills best suited to the ship class they'll be commanding. To enhance the ship that you're using you'll be able to choose skills from categories such as "Aircraft" and "Concealment and Acquisition." Recommended skills for each class can be found on the individual ship class pages in our training section.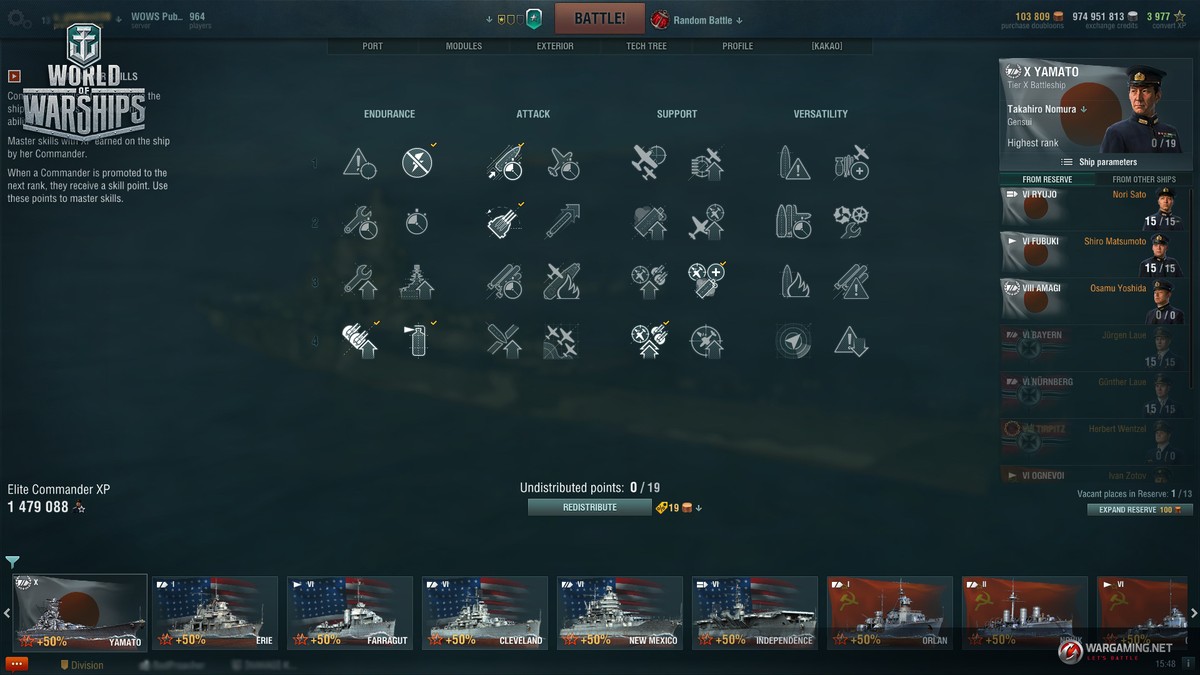 Learn the Skills and test your builds below!
---
Commander Skill List
Ship class abbreviations: DD = Destroyer CA = Cruiser BB = Battleship CV = Aircraft Carrier
Level 1
Icon
Skill Name
Description
Recommended Classes
Priority Target
After this skill is mastered, the Situation Awareness ("DETECTED") indicator will show the number of opponents that are currently aiming at your ship with main battery guns.
DD, CA, BB
Preventive Maintenance
-30% to the risk of incapacitation of modules
DD, CA
Expert Loader
-50% to reload time when shell type is switched
CA, BB
Aircraft Servicing Expert

+5% to HP of carrier-based aircraft

-10% of servicing time of carrier-based aircraft

CV
Direction Center for Catapult Aircraft

+1 catapult aircraft

-20% of the speed of catapult aircraft

CA, BB
Dogfighting Expert

+10% to average damage per second of fighters for each tier of difference between them

+10% to fighters ammunition

CV
Incoming Fire Alert
Indicator of long-range enemy artillery fire.
DD, CA
Evasive Maneuver

-20% to detectability of strike aircraft when returning to the carrier

+75% to HP of strike aircraft when returning to the carrier

-30% to airspeed of strike aircraft when returning to the carrier

CV
Level 2
Icon
Skill Name
Description

Recommended Classes

High Alert
-10% to reload time of the Damage Control Party consumable
BB, CV
Jack of All Trades
-5% to reload time of all mounted consumables
CA, BB
Expert Marksman

+2.5 deg/s to traverse speed of guns with a caliber up to 139 mm

+0.7 deg/s to traverse speed of guns with a caliber above 139 mm

DD, CA, BB
Torpedo Acceleration

+5 knots to torpedo speed

-20% to torpedo range

DD, CV
Smoke Screen Expert
+20% to the radius of the smoke screen
DD, CA
Expert Rear Gunner
+10% to average damage per second of self-defense armament for aircraft with rear gunners
CV
Adrenaline Rush
0.2% to reload time of all types of armament for each 1% HP lost
DD, CA, BB
Last Stand
The ship remains able to move and maneuver while the engine or steering gears are incapacitated.
DD
Level 3
Icon
Skill Name
Description

Recommended Classes

Basics of Survivability
-15% to time of repair, fire extinguishing, and recovery from flooding
BB, CV
Survivability Expert
+350 of HP for each ship tier
DD
Torpedo Armament Expertise

-10% to reload time of torpedo tubes

-20% of servicing time of torpedo bombers

DD, CV
Emergency Takeoff
+100% to aircraft servicing time when the carrier is on fire
CV
Basic Firing Training

-10% to reload time of main battery guns with a caliber up to and including 139mm, and secondary battery guns

+10% to average damage per second of AA defense

DD
Superintendent
+1 to all consumables mounted on a ship
DD, CA, BB
Demolition Expert
+2% to chance of fire on target caused by the main battery shell, a secondary battery shell, or a bomb
DD, CA
Vigilance
+25% to acquisition range of torpedoes
DD, CA, BB
Level 4
Icon
Skill Name
Description

Recommended Classes

Manual Fire Control for Secondary Armament

-15% to the maximum dispersion of shells for the secondary armament of Tier I–VI ships

-60% to the maximum dispersion of shells for the secondary armament of Tier VII–X ships

BB
Fire Prevention

-10% to the risk of fire

The maximum number of fire sources on a ship is reduced to three

BB
Inertia Fuse for HE Shells

+30% to the armor penetration capacity of HE shells

-3% to chance of fire on target caused by HE shells

DD, CA

* Recommended for destroyers with small caliber guns (127-130mm)

* Recommended for cruisers with 180mm guns

Air Supremacy

+1 fighter

+1 bomber

CV
Advanced Firing Training

+20% to firing range of main battery guns with a caliber up to and including 139mm, and secondary battery guns

+20% to AA defense firing range

DD, CA, BB, CV
Manual Fire Control for AA Armament
+100% to average damage per second of AA guns with a caliber above 85mm against a priority target

DD, CA, BB

* Recommended for destroyers with dual-purpose guns

Radio Location
Shows the direction to the nearest enemy ship. The enemy player will be alerted that a bearing was taken on their ship. This skill will not work if a player is playing with an aircraft carrier.
DD, CA
Concealment Expert

-10% to detectability of destroyers

-12% to detectability of cruisers

-14% to detectability of battleships

-16% to detectability of aircraft carriers

DD, CA, CV