Divided we fall, united we stand! An important part of the World of Warships experience is the ability to battle alongside your friends against enemy forces. Playing in Divisions and Teams offers a ton of tactical advantages and considerably impacts the gameplay.
Divisions
Divisions are your perfect opportunity to enjoy glorious battles with mates you can rely on, especially when things get heated. Moreover you can show off your knowledge of naval warfare in well-coordinated attacks using the in-game voice chat.

To invite friends to a Division:
Click

Create Division.

Select the players you want to invite to a Division, and then click

+

.

Wait until all those invited have set their statuses to "Ready!".

Click
To leave a Division, click the close button.


A Division consists of up to three players.
Dynamic Divisions
Dynamic Divisions allow you to team up with fellow players even mid-battle if none of your regular teammates are available. No waiting needed; no returning to your Port.
To create/join a Division, go to the Division tab during the loading screen or press Tab while in battle.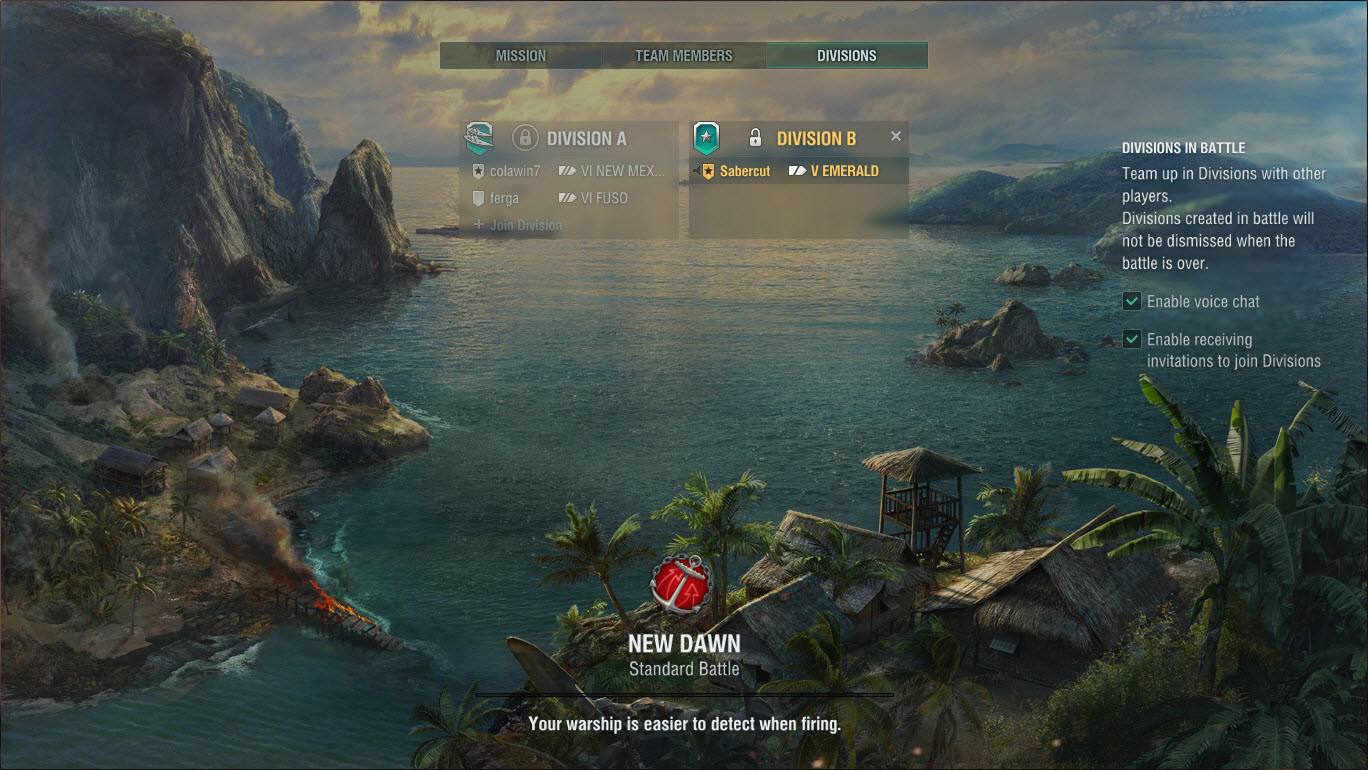 A Division Commander can lock the Division in order to accept players only when invited by the Commander.
Bear in mind, some missions will require you to be part of a Division to complete them. You need to be in a Division at the end of the battle in order to fulfil the criteria. If you're not in a Division by the battle's end, it won't count even if you've satisfied the other criteria.


The maximum number of Divisions is six for Random Battles and three for Co-op Battles.
Chatting
You have several means at your disposal for communicating with other players:
General Chat
Group Channel
Division Chat
Battle Chat
To set up a voice chat, go to Settings > Audio. While in game, hold V to activate voice chat.
In Port
Click
(Contacts) to initiate a private conversation with another player or join/create a group Channel.
Division chat appears right after you have created or joined a Division.
In Battle