0.6.9 Update Notes
The update happens August 9; preparation begins at 03:00 PT/ 06:00 ET until 05:00 PT/ 08:00 ET.
---
We've seen some questions about mods -- please note that any mods previously installed may cause compatibility issues with any update. If you have mods and have difficulty playing, try launching the normal game in "Safe Mode" using the drop-down arrow next to the "Play" button, then uninstall or otherwise remove the mods.

If you're still having trouble, contact Support. If you're on a mobile device, you can message them on Twitter.
Update notes are subject to change!
---
Unique Commanders
Update 0.6.9 ushers in unique "hero" Commanders who provide their ships with special bonuses and talents in battle-- they're even marked with a special ribbon so they stand out from the crowd in your Reserve.
Admiral Yamamoto Isoroku is one of the first historical Commanders we're introducing. Yamamoto graduated the Imperial Japanese Naval Academy, U.S. Naval War College, and Harvard University, ultimately rising to the rank of Admiral and Commander-in-Chief of Japan's Combined Fleet during World War II.
What's in a name? The Admiral's name is usually Isoroku Yamamoto in English-language sources, but in Japanese, the family name comes first.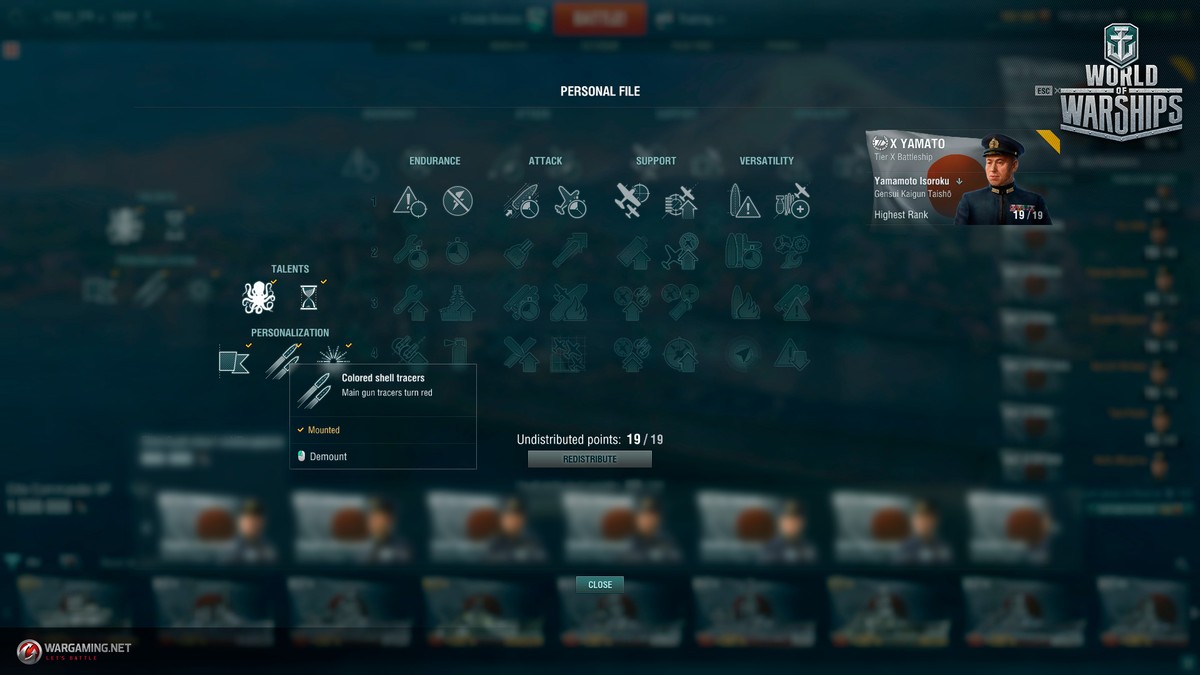 Earn Yamamoto as a Commander when you complete the permanent "Yamamoto Isoroku" Campaign. He has 15 undistributed Skill points and two exclusive talents when commanding ships:
Concealed Reserves: After earning the "First Blood" achievement, players receive one additional charge for each consumable -- in the current battle only, until that battle ends.
Second Wind: After earning the "Kraken Unleashed!" achievement with a Yamamoto-commanded ship, Second Wind activates. It has -34% to main battery reload time, -16% to torpedo reload and squadron prep time, and up to 48% of the ship's normal HP restored within 120 seconds. This talent functions just like the "Repair Party" consumable, which restores ship and module damage.
Better yet, this legendary Admiral comes with an exclusive pennant, alternative color settings for main gun shell tracers, and can shoot fireworks off the ship for every time you get "First Blood" or "Kraken Unleashed!"
Learn More about Admiral Yamamoto
---
The Yamamoto Isoroku Campaign
This new permanent Campaign challenges even the most seasoned sea wolves in a series of Admiral Yamamoto's historical battles.
All players with Service Record level nine can sail the Campaign's tier VIII-X vessels. It contains five missions, each based on a period in Yamamoto's life. The reward is worth it -- you earn two Supercontainers for completing each mission's final task. Each consecutive mission will become available every two weeks.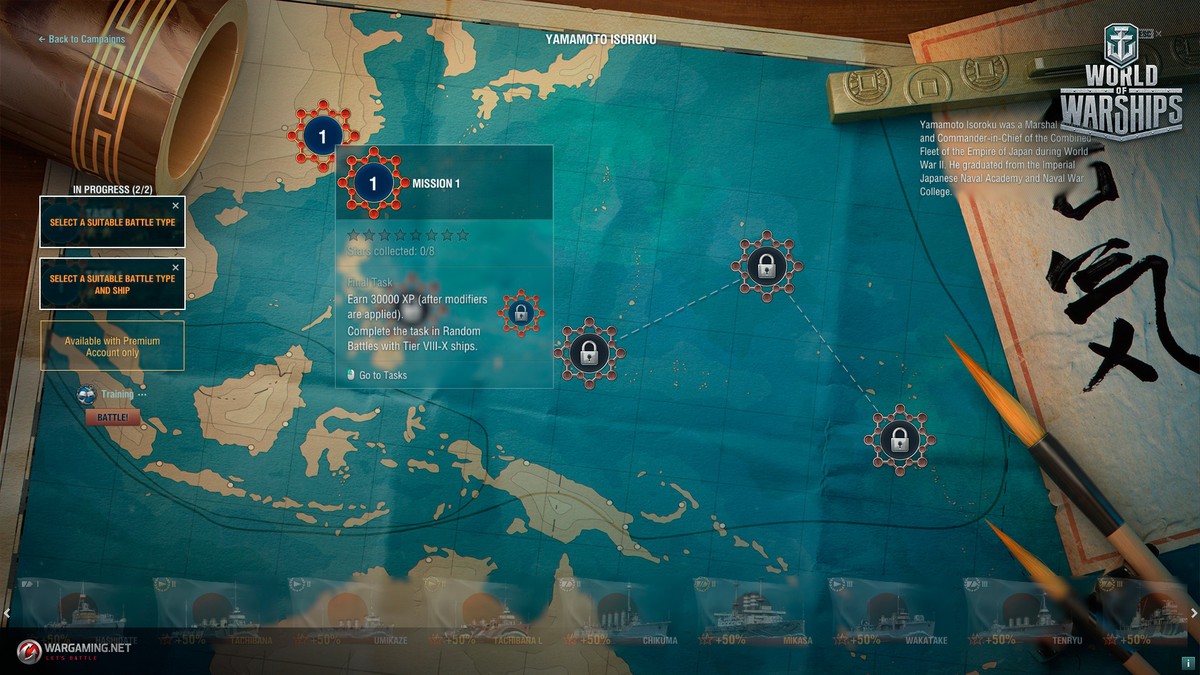 You earn Commander Yamamoto Isoroku in the Port and the tier I *Hashidate with 15 Skill points when you finish the final task of the last mission. You also get a Container with items from the Isoroku Collection and some bonuses, plus 200,000 Credits and 50,000 Elite Commander XP for retraining Yamamoto for the desired ship.
We'll add a Reserve space for Yamamoto only if you don't have space available at the time he's credited. If you have spare Reserve spaces, you won't get the free space.
If you finish the campaign, you earn the following two achievements:
| | |
| --- | --- |
| Icon | Description |
| | Complete the final task of the "Yamamoto Isoroku" Campaign |
| | Complete all tasks of the "Yamamoto Isoroku" Campaign |
Learn More about the Campaign and Collection
---
The Yamamoto Isoroku Collection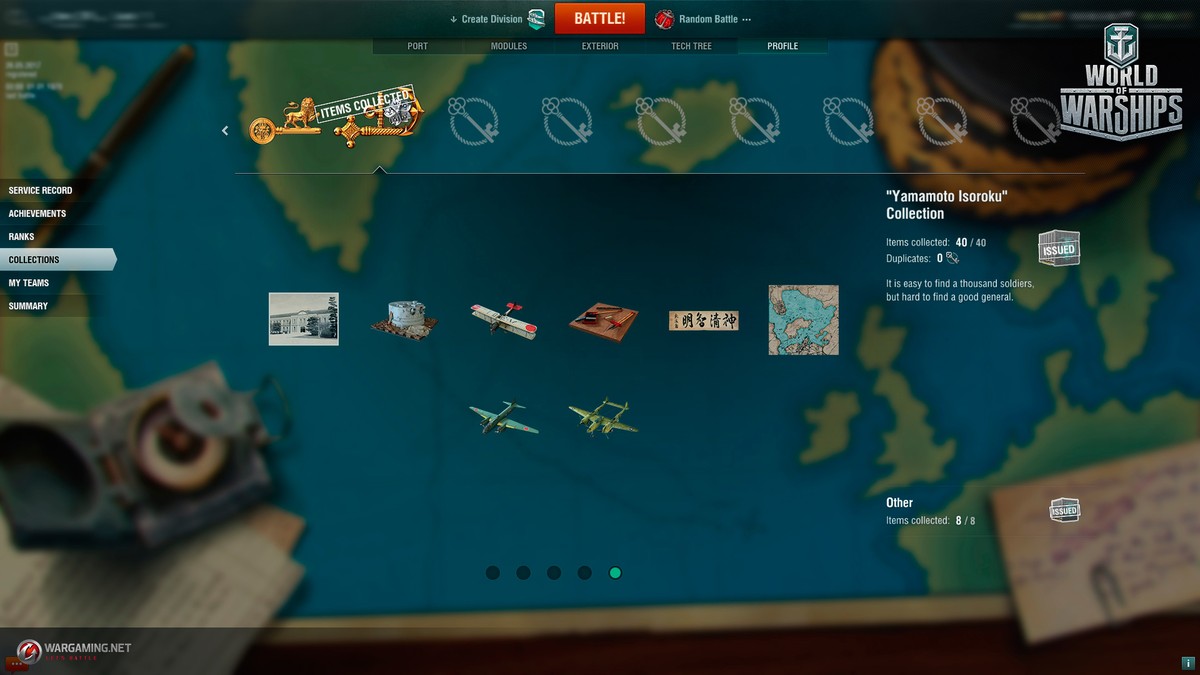 This collection of 40 unique items includes uniforms, decorations, personal effects and military equipment related to the life and career of Admiral Yamamoto. It's divided into five sub-collections of eight items each:
Complete "Uniform" to get alternate camo for Japanese destroyers
Complete "Uniform Items" to get alternate camo for Japanese cruisers
Complete "Rewards" to get alternate camo for Japanese battleships
Complete "Ships" to get alternate camo for Japanese carriers
Complete "Miscellaneous" to mount a second flag on all Japanese ships
When each sub-collection is completed, you can make ships even more distinct in battle! These Collection-specific bonuses are active even when you don't have Commander Yamamoto in Port.
Complete the full Collection and you earn an achievement along with the commemorative Yamamoto Isoroku Flag!
Icon

Description

Complete all collectable items for the "Yamamoto Isoroku" Collection
---
Interface
Check out an in-game version of the Premium Shop found in a button on the left of the Port, or via the drop-down account menu and let us know what you think!
We've modified the Commander reassignment screen: to re-assign a Commander to a different ship, first specify the ship type, and then select the required ship from the drop-down list.
Simplified reassigning of Japanese Commanders by expanding the list of ships you can crew with ARPEGGIO, Dragon and Japanese Commanders:
You can now assign "ARPEGGIO" and "Dragon" Commanders to Japanese ships while assigning Japanese Commanders to ARPEGGIO ships and Dragon ships
The Port screen has a Settings panel on the right side of the screen above the carousel where you can hide or show additional content like ARPEGGIO ships or special camo.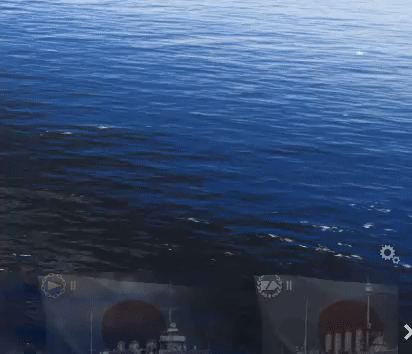 Added image of final reward for finishing the Campaign to the Campaign selection screen
You can now sign up for specific permanent Collections, meaning you can select which collections and items you receive in daily Containers, except for Supercontainers. That said, you won't be able to cancel "signing up" for a temporary collection occurring during some events.
All players within the smoke screen area irrespective of who was the one to set this smoke screen will see a Smoke screen indicator that will show the smoke screen action time. Now, all players will know how much time they have till the dissipation of the smoke screen. Besides, the logic of the smoke screen timer will also be changed.
In a standard mode, this timer shows the duration of a smoke screen within which a player's ship is hiding. If the ship is simultaneously in several smoke screen areas, the timer will show the time left till the complete dissipation of the "longest-living" smoke circle. This way, the timer provides vitally important information and helps the player when their ship is close to other players' smoke screen areas.
Higher display priority will be given to the timer of those smoke screens where a player's ship is hiding at the moment. By pressing the [Alt] key, players can switch the timer to work based on the previous logic when only the state of the player's own smoke screen is indicated.
When the Update 0.6.9 is released, the Smoke screen timer setting will be automatically enabled for all players. The smoke screen timer can be disabled in Settings under the Controls tab by disabling the "Display smoke screen timer" setting. Waiting for approval by Ivan Poletaev".
Balance Adjustments
Benson: Decreased Hull (B) rudder shift time to 2.7s to equalize with Hull C
---
Ship Appearance Changes
Improved appearance of tier I and II ships with better rendering of thin elements like rigging. This correction won't affect performance:
Tier I Ships: Black Swan, Orlan, Erie, Hashidate, Hermelin
Tier II Ships: Chikuma, Chester, Dresden, Novik, Weymouth, Umikaze, Sampson, Storozhevoi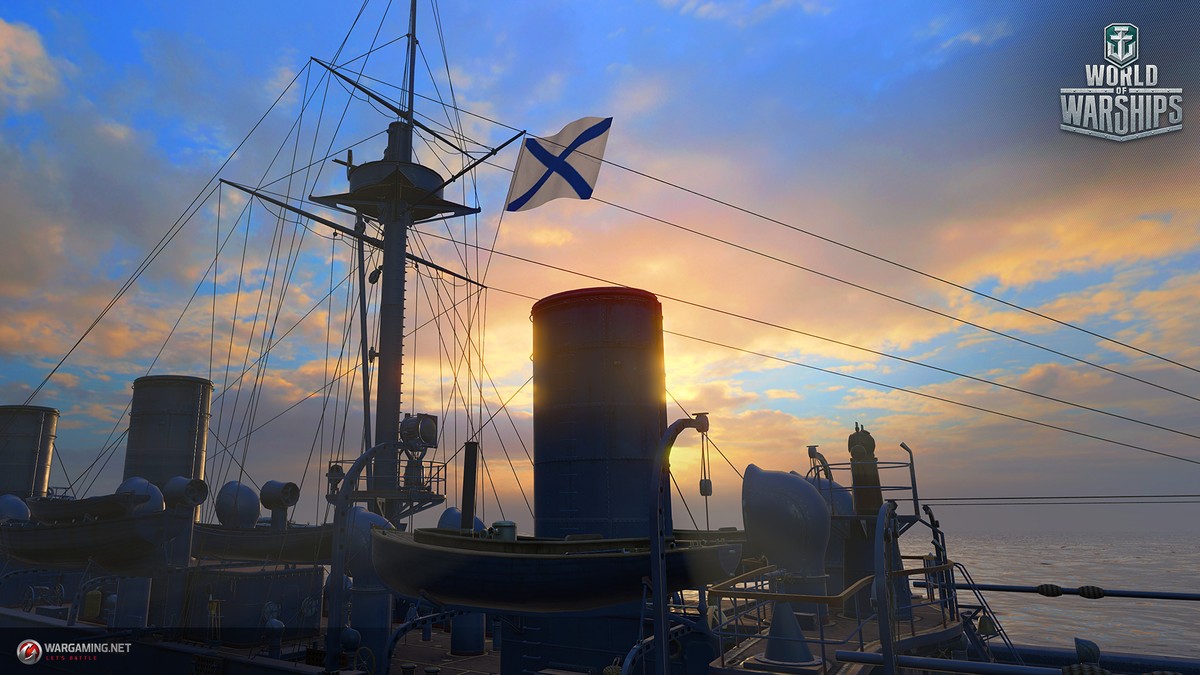 Corrected errors and improved the geometry for the following ships:
Enterprise, Anshan, Emile Bertin, Duguay-Trouin, Saint-Louis, Gallant, Algerie, Ishizuchi, Duca d'Aosta, Oktyabrskaya Revolutsiya
Other changes
Mogami: Fixed location of crown daisy on the bow
All objects made of latten brass and bronze on all ships now produce correct flares
Oleg: Fixed Roman numerals
Duca d'Aosta: Fixed secondary gun travelling positions
---
Other Improvements and Fixes
World of Warships will use DirectX 11 for Windows platforms in Update 0.6.9 to implement new graphics tech. The only exceptions are computers still using Intel integrated graphics processors which will still use DirectX 9. You can manually switch between DirectX 9 and DirectX 11, though systems with Intel integrated graphics processors will experience increased memory consumption. This might cause game crashes on PCs with small amounts of RAM or on 32-bit systems. DirectX 11 implementation allows us to use new graphic technologies in the future, but Update 0.6.9 won't bring any graphical or performance changes. Check our Knowledgebase for more information.
Fixed the bug causing the ship camo to not display when switching to another ship while viewing the camouflage of the current ship
Fixed overlap of Clans screen with chat and system notifications in Port
Fixed bugs in Quick Command texts
Fixed incorrect text on the armor layout screen displaying after you sell ships
Fixed bug causing crashes when the attempting to turn the battle camera up to the sky with the "MSAA" and "Reflections" options enabled on AMD video adapters
Fixed reduced size "New" indicator displaying in Port
Fixed bug with receiving "It's Just a Flesh Wound!" achievement when ship was destroyed by a teammate, even though you met all requirements
Fixed causing "Incoming Fire Alert" indicator to activate when not been yet detected by the enemy
Fixed bug with which dynamic icon guns hanging above the hull
Fixed the bug with the "Sea Star" achievement in Operation Aegis