Launch Weekend - We're Live!
World of Warships has officially set sail!
Captains, thank you for all your feedback during the alpha and beta. We could not have made it here without you. There are far more smooth seas than stormy ones ahead of us, and we're prepared to navigate it all with your support and enthusiasm. Today also marks the start of Ranked Battles; happy hunting!
To help get your voyage off to a swift start we're launching with a weekend x3 XP event! Details below.
We're pleased to now offer our News and other services in Portuguese and Spanish. Check the Latin America Resources page for additional information.
Launch Day Livestream
Want to meet your Community team and other Wargaming staff, ask questions about the game, and win some prizes? Then tune into the official Wargaming twitch stream from 11:00 PT - 18:00 PT on September 17 for your chance to score some booty: Premium ships, Premium account time, and maybe even Doubloons! You'll need to sign in and participate in the chat to be eligible for prizing. Be sure to subscribe to our channel to receive updates whenever we're hosting a stream.
During the recent PAX Prime convention, we livestreamed from the show floor for two days. We're interested in hearing your feedback about that livestream, and also about livestreaming in general. Please, click here to take this short survey to help us improve our livestreams!
Everyone who participates in the survey will receive 250 Doubloons. CAREFULLY enter your account name into the form - we can't credit you if we can't find you! Any questions should be directed to this forum thread.
x3

XP First Win Bonus
Starts Thursday, September 17, 04:20 PT / 07:20 ET
Ends Monday, September 21, 04:20 PT / 07:20 ET
---
Available Friday, September 18, 04:20 PT / 07:20 ET
Ends Monday, September 21, 04:20 PT / 07:20 ET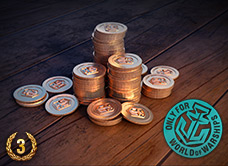 Buy Now
•

2 Days of Premium
•
1,500 Doubloons
•

1 Day of Premium FREE
/