British Battleships - Mission: Hype
Prepare a Royal Welcome!
British battleships are coming! Take on a trilogy of mission chains for the rest of the month and acquire ship blueprints. Each week, collect a blueprint to earn a British battleship and jump up the new British battleship tree when it's released!
Blueprint 1: Tier III HMS Bellerophon + Port Slot
Blueprint 2: Tier IV HMS Orion + Port Slot
Blueprint 3: Tier V HMS Iron Duke + Port Slot + Iron Duke Flag
When Update 0.6.10 arrives, the blueprints will be swapped out for the prizes above!
Correction (8/24) Corrected Week 3, Mission I conditions.
Correction (8/14) Corrected Week 1, Mission V conditions.
Rewards on the way (8/11) We know lots of you had your progress reset on the mission below. Don't worry! We're compensating all affected players with 1 Day of Premium

, delivered in the next 24 hours!
An Unfortunate Scenario (8/10) Some technical issues were found with these missions in Scenario
battles. The missions have been modified and are no longer completable in this battle type. Our bad!
Unless stated otherwise, all missions below can be completed once per account in ships tier IV or higher in Random

or Co-Op

battles.
Week 1: Contain Your Enthusiasm
Starts Aug. 10 at 04:20 PT (07:20 ET)
Ends Aug. 17 at 04:20 PT (07:20 ET)
UK Battle Mission I
Deal 250,000 damage to enemy ships over any number of battles
Reward
1x "More Credits" Container
1x "More Consumables" Container
1x "More Signals and Camouflages" Container
UK Battle Mission II
Hit enemy citadels 10 times over any number of battles
Must first complete UK Battle Mission I
Reward
10x "India Delta" signal flags


10x "India Yankee" signal flags

UK Battle Mission III
Set 10 fires on enemy battleships and deal 50,000 damage with ship torpedoes to enemy battleships over any number of battles
Must first complete UK Battle Mission II
Reward
Blueprint 1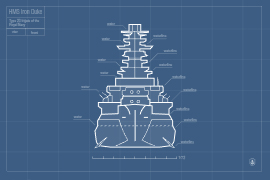 UK Battle Mission IV
Destroy 10 enemy ships over any number of battles
Must first complete UK Battle Mission III
Reward
10x "India Delta" signal flags


10x "November Foxtrot" signal flags

UK Battle Mission V
Destroy two enemy ships and deal 100,000 damage to enemy ships in a single battle
Must first complete UK Battle Mission IV
Reward
1,000,000
Completion Reward
3x "Try Your Luck" Containers
---
Week 2: British Mod Movement
Starts Aug. 17 at 04:20 PT (07:20 ET)
Ends Aug. 24 at 04:20 PT (07:20 ET)
UK Battle Mission I
Win five battles
Reward
1x Main Armament Modification 1

UK Battle Mission II
Destroy five enemy cruisers over any number of battles
Must first complete UK Battle Mission I
Reward
1x Main Armament Modification 2

UK Battle Mission III
Destroy an enemy destroyer in a victorious battle you survive
Must first complete UK Battle Mission II
Reward
Blueprint 2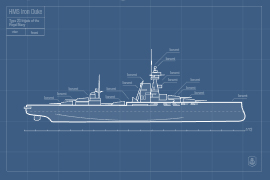 UK Battle Mission IV
Deal 30,000 fire damage to enemy battleships in a battle where you place in the top three XP earners on your team
Must first complete UK Battle Mission III
Reward
1x Damage Control Modification 1

UK Battle Mission V
Deal 150,000 damage to enemy ships in a single victorious battle you survive
Must first complete UK Battle Mission IV
Reward
1x Damage Control Modification 2


20x "India Delta" signal flags

Completion Reward
1 Premium Day

---
Week 3: Sparks of Victory
Starts Aug. 24 at 04:20 PT (07:20 ET)
Ends Aug. 31 at 04:20 PT (07:20 ET)
UK Battle Mission I
Destroy five enemy battleships over any number of battles
Class Restriction:



Reward
5x "Red Dragon" signal flags

UK Battle Mission II
Get 500 ribbons over any number of battles
Must first complete UK Battle Mission I
Reward
10x "Type 5" camo

UK Battle Mission III
Place in the top two XP earners on your team
Must first complete UK Battle Mission II
Reward
Blueprint 3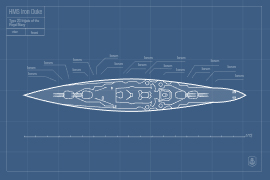 UK Battle Mission IV
Deal 140,000 damage to enemy ships in a single battle you survive
Must first complete UK Battle Mission III
Reward
UK Battle Mission V
Be the top XP earner on your team in a victorious battle you survive
Must first complete UK Battle Mission IV
Reward
5x "Wyvern" signal flags

Completion Reward
10x "Sparks of Victory" camo

/